It's a situation nobody wants to find themselves in: dealing with a smashed side car window. You return to your parked car only to discover your side window has been shattered. Beyond the initial shock and frustration, you're left wondering how to fix a broken car window and return to the safety and security you're used to.
In this guide, we'll walk you through the essential steps to take to mitigate damage and secure your vehicle. Ultimately, you'll learn how to fix a broken car window.
Assess the Situation: If you're wondering how to fix a broken car window, you should know that your safety is paramount. Look around for signs of damage, such as aggressive people, heavy traffic, or hazardous material. Evaluate if your area is well-lit and safe from further crime or accidents. If it's a remote location, make sure your mobile phone has enough battery and signal strength to make emergency calls.
Call Authorities (if applicable): If there's evidence of a crime like vandalism or theft, dial the police. While waiting for them, do not touch anything that could be evidence. Provide the police with all the necessary information, including any surveillance footage or witness accounts you may have gathered. Ensure you receive a copy of the police report for your records and insurance purposes.
Put on Safety Gear: Protective gear is crucial. Get a pair of thick gloves to safeguard your hands from sharp glass fragments. Safety goggles will protect your eyes from tiny shards that could potentially be airborne. Consider wearing a thick jacket to protect your arms as well.
Turn on Hazard Lights: Activate the hazard lights on your vehicle as an essential cautionary step. This alerts nearby drivers to approach your vehicle cautiously, reducing the risk of further incidents like collisions or near-misses.
Move to Safe Location: If your car is operable, cautiously steer it to a parking lot, a friend's driveway, or a well-lit, populated area. Position your vehicle so that you have ample space to work around it, and ensure to park it in a zone where parking is allowed to avoid getting ticketed.
Inspect Interior: Take a comprehensive inventory of your car's interior. Make a list of any missing or damaged items. Use a flashlight to look under the seats and check compartments for glass shards that could be dangerous later on.
Photograph Damage: Use the highest resolution setting on your camera or smartphone to capture detailed pictures of the broken side window. Take close-ups of the damaged areas, wide shots of the entire vehicle, and any other perspectives showing the damage's extent.
Gather Tools: Assemble a comprehensive toolkit for a temporary fix. This should include heavy-duty tape — preferably duct tape — a roll of thick plastic sheeting, a vacuum cleaner with an extendable hose, scissors, a ruler or measuring tape, and a garbage bag for disposing of glass.
Vacuum Broken Glass: Use your vacuum cleaner to methodically remove glass shards from every crevice of your car's interior. Use nozzle attachments to reach into tight spaces like under the seats, along the edges of the floor mats, and within the seams of the upholstery.
Secure the Area: If you're in a public place, use bright yellow or orange caution tape to cordon off the area around your vehicle. Place traffic cones at the front and back of your vehicle if available. Hang a sign or use a marker to write "Caution: Broken Glass" to alert passersby.
Remove Large Glass Pieces: Employing careful movements and using a pair of needle-nose pliers if needed, remove large shards of glass from the window frame. Place these carefully in a thick garbage bag, and consider double-bagging to prevent further risks.
Clean Window Frame: Scrub the window frame with a bucket of soapy water and a sponge to remove minute glass particles and dirt. Rinse with clean water and dry it with a microfiber cloth. The cleaner the surface, the better the adhesive will stick when you attach the plastic sheeting.
Measure Window Size: Use a measuring tape to get the exact dimensions of the window frame where the glass is missing. Record both the vertical and horizontal measurements. Always add a few inches to each dimension for a snug fit when you attach the plastic sheeting.
Cut Plastic Sheeting: Lay the plastic sheeting on a flat surface, use a ruler for straight lines, and carefully cut it according to your measurements. Make sure you add those extra inches to ensure complete coverage of the broken side window.
Attach Plastic Sheeting: Align the plastic sheeting with the window frame, starting from the top. Use duct tape to secure it, ensuring you press down hard for strong adhesion. Go over the edges multiple times to create an air and water-tight seal. Perform a tug test to ensure it's secured properly.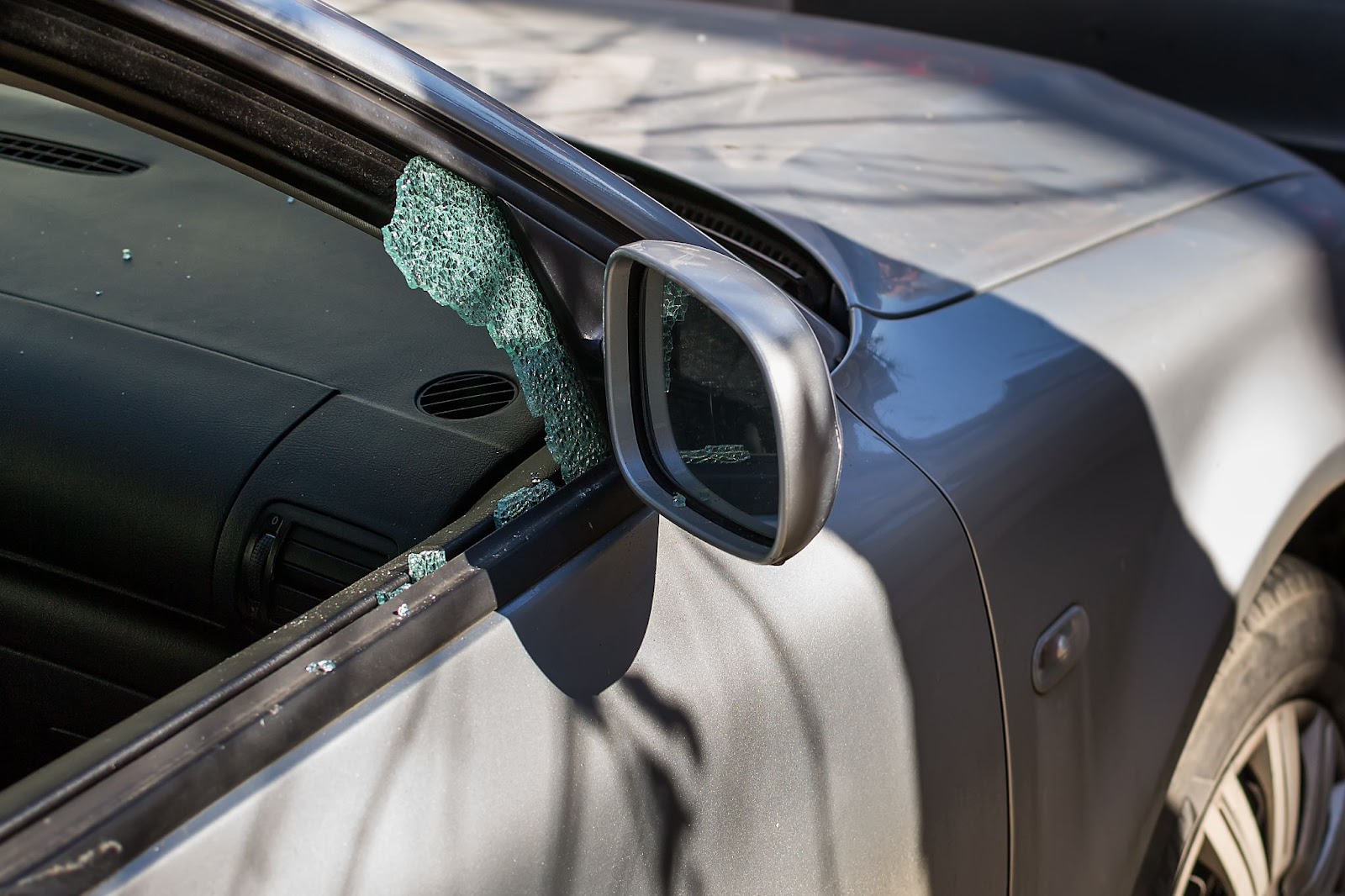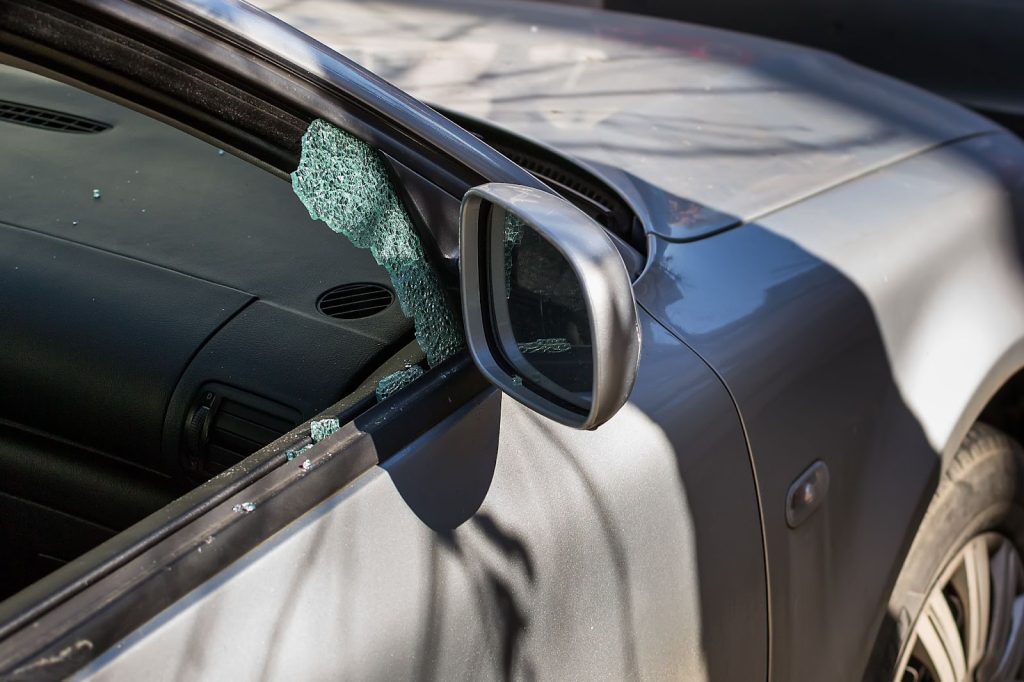 Check Other Windows: Conduct a systematic inspection of all the other windows. Look for signs of cracking, chipping, or any other vulnerabilities requiring attention. Document these as well, as they can be relevant for insurance claims or future repairs.
Document Everything: Write a detailed account of the entire incident, either in a notebook or on a digital device. Include timestamps, geographic location details, and any interaction you had with witnesses or authorities. The more detailed your documentation, the better, especially for legal or insurance purposes.
Contact Insurance Company: Dial your insurance company's hotline or agent's direct number. Be prepared with your policy details, vehicle identification number (VIN), and the particulars of the incident. Ask specific questions about what your policy covers regarding broken windows and what your deductible is.
Get Repair Quotes: Research and call several auto-repair shops specializing in window replacement. Request a detailed, itemized quote, which should include parts, labor, taxes, and any additional services like cleaning or disposal of the broken glass.
Choose Repair Service: Evaluate all the quotes received, read customer reviews, and check for certifications. Verify warranty terms for the new glass and labor before making your decision.
Schedule Appointment: Once you've chosen a repair service, book the earliest available appointment. If they offer a mobile repair service, consider opting for that for added convenience.
Arrange Transportation: If the vehicle isn't drivable, look for towing services. Contact your insurance company first, as they may offer towing as part of your coverage or at a discounted rate.
Remove Temporary Fix: Carefully peel off the duct tape and remove the plastic sheeting. Fold it in a way that keeps any residual glass inside to prevent injury and dispose of it safely.
Inspect New Window: Post-repair, scrutinize the newly installed window carefully. Check the sealing around the edges, the fit into the frame, and any other aspects that could be of concern.
Test Window Function: Operate the window several times to ensure it moves freely, latches securely, and locks properly. Make sure the repair shop technicians do a demonstration for you.
Clean New Window: Utilize a specialized automotive glass cleaner and a new microfiber cloth to wipe down the newly installed window. This will remove any fingerprints, adhesive residues, or smudges.
Pay for Services: Complete the payment, ensuring you keep a detailed invoice and payment receipt. Most repair services will accept multiple payment methods for your convenience.
Retrieve Documentation: Collect all the paperwork, including service reports, warranties, and certifications for the glass or other components. Organize these and store them with your vehicle's important documents.
Update Security Measures: To prevent future incidents, invest in advanced security systems such as shock sensors, glass-break sensors, or a surveillance system that can send real-time alerts to your phone.
Review Incident: Finally, take a moment to mentally walk through the entire event. Assess what preventative measures could be implemented to avoid similar incidents in the future. Update your vehicle's emergency kit to include items like an emergency window breaker and seatbelt cutter.
Hopefully, this guide offers you an exhaustive plan of action for dealing with a broken side window on your vehicle.
Let Utah Mobile Auto Glass Be Your Go-To Mobile Windshield Replacement Company!
Are you looking for a reputable, trusted mobile windshield replacement and repair company in Northern Utah? The professionals at Utah Mobile Auto Glass are here for you!
Whether you need a windshield, sunroof, side or rear window replacement, our qualified technicians are ready to help. We also service fleet vehicles and provide ADAS windshield camera calibration services for all vehicles.
At Utah Mobile Auto Glass, we pride ourselves on delivering on our promises and going above and beyond our customers' expectations. We are dedicated to providing our clients with the highest quality work and exceptional customer service, making us your first choice for any of your auto glass needs.
We know your time is valuable, so we want to make things as easy and effortless as possible for you. We offer free mobile service for all customers on their windshield and window repairs and replacements within 25 miles of our Sandy location. So, whether you're in Bountiful, Salt Lake City, Lehi, or a nearby city, our trusted team can help!
Contact us to learn more about how we can serve you today.