Rock Chip Repair In Sandy, Utah.
FREE Mobile Service on your rock chip repair, for all customers within a 25 miles range of our location in Sandy, UT.
What is a windshield rock chip?
When a small rock impacts a windshield causing a damaged spot in the glass, it's called a rock chip. It is a very common thing to happen since it occurs when other car's tires fling debris behind them. Sometimes the chip is not even noticeable at first sight; however, it can lead to further damage if left unrepaired.
Damaged glass can become a safety issue, as it weakens its resistance to future projectiles.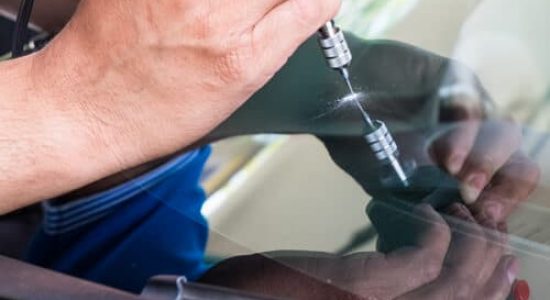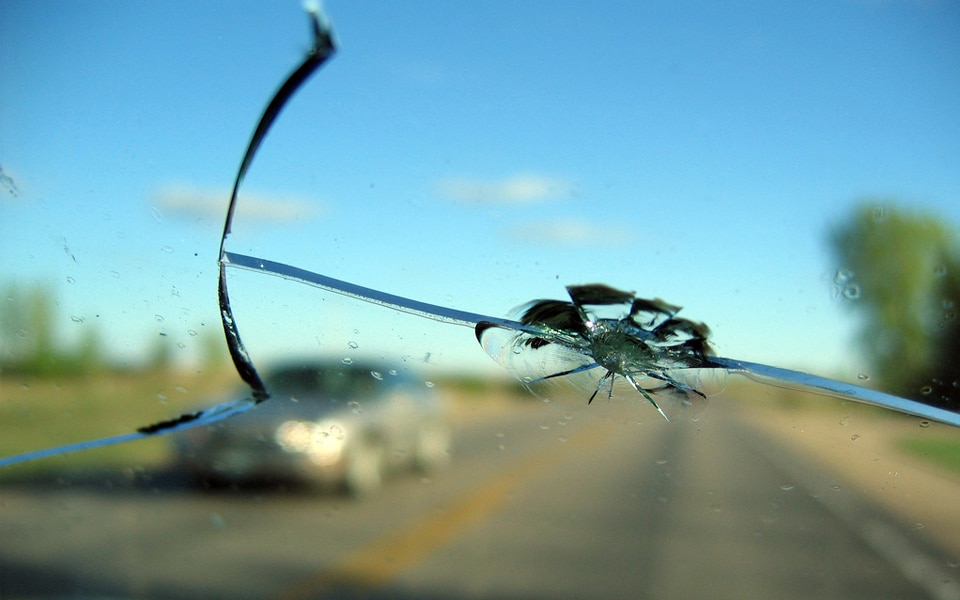 Repair rock chips promptly.
It is very important to repair the rock chip as soon as possible, even if the damage seems minor. If dirt and debris are embedded into the chip area it can make the repair less effective or even impossible. Weather and windshield wipers can force dirt into it. Water also can freeze in the chip, causing a larger flaw or even a crack. Even windshield washer fluid, which contains dyes, can discolor the area.
For the best chip repair result, it should be done within a few days after the damage occurs. If left unrepaired, it can often burst into a pattern of tiny cracks, even grow into one long crack. If the chip is repaired promptly, the car owner can avoid a more expensive repair. On average, windshield repair costs 50$ for the first chip and 10-15$ for any additional ones.
How a windshield chip repair is done.
First, the windshield technician will inspect the windshield and choose the right type of repair for the situation. The assessment involves investigating the size and type of chip, as well as the amount of debris embedded into it. The area of the chip must be cleaned to make sure there is no debris or moisture in it. If it's not cleaned correctly, the repair will result in a cloudy spot on the windshield.
The technician will proceed to seal the rock chip with a resin material and then hardened with ultraviolet light. The resin dries clear and blends with the windshield glass. The resin excess must be removed to leave smooth windshield as a result. The process takes approximately 30 minutes and the client is left with a windshield that looks brand new.
Windshield chip repair kits.
An alternative and easy way to fill a chip are using epoxy or acrylic adhesive filler. They can be used if the chip goes into the surface at a perpendicular angle or at a shallow angle. That includes cone-shaped chips, leaf-shaped chips or almost any chip that hasn't left a big piece of glass on the road. They can be found on the auto parts department of many retailers, auto parts stores, and are ordered via Amazon.
Before using a repair kit, the surface must be cleaned, using acetone, not detergents nor window cleaners. It must be dry and near room temperature, the repair kit you use will depend on the size and type of the rock chip. After using it, be sure to give the adhesive time to dry and cure.
We also can help you with.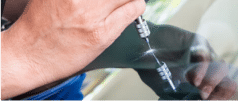 We replace windshields for all vehicle makes and models, we offer free mobile service for all customers.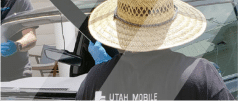 We have the knowledge and skill to properly repair the rock damage so that it will not spread.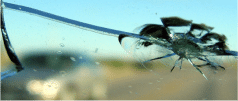 Utah mobile auto glass is the place for repairing your windshield back to the condition when it was new.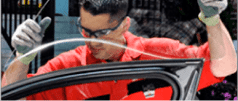 We can replace any glass in your car or truck. This includes the rear glass.